Mr. Qimiao Fan, World Bank's Country Director for Bangladesh, Bhutan and Nepal went for a dry run on September 19, 2016 to Dakhknin Rakudia village of Babugonj upazila under Barisal district prior to visit of the Hon'ble President of World Bank scheduled to take place on October 18, 2016. World Bank has been supporting Bangladesh to achieve remarkable progress in many areas such as reducing poverty, bringing children into primary schooling, improving health outcomes, expanding access to energy, and building infrastructure. Currently the World Bank is financing 36 active projects being implemented by different institutions, Govt. of Bangladesh. During the visit the Country Director was accompanied by SDF Managing Director AZM Sakhawat Hossain and other officials of World Bank.
It deserves mentioning that SDF has been rendering services in the sphere of poverty alleviation for the last 16 years since its inception supplementing the effort of the Government to help elevate Bangladesh into a middle income country. In the mean time Bangladesh has established itself as a lower middle-income country and is pledge-bound to achieve this goal ensuring accomplishment of crucial works with utmost sincerity.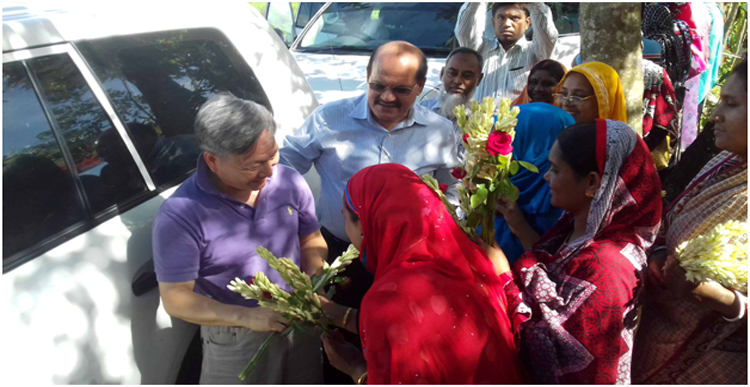 Country Director of World Bank being received by the beneficiaries of Dakhkhin Rakudia village
During the visit the Managing Director detailed the project implementation approaches with an overview of pertinent project activities. Subsequently the Country Director immersed himself in discussions with the beneficiaries to grasp how they are handling a Community Driven Development (CDD) operation aimed at lifting the extreme poor and poor households above the poverty line in the project villages. The discussions also included the project nitty-gritty such as ten golden principles mandatory to administer such a project, different committees constituted picking up members from the village institutions to operate distribution and recovery of revolving funds, sub-project implementation that include construction of Gram Samiti office building, installation of tube-wells, construction of culverts, social audit committee to oversee transparency and accountability at all levels of project implementation etc. The Country Director came to know through discussions with the beneficiaries that they started the project in this village in 2012 and have been able to surpass the poverty line by now and trying to join the middle income group through making larger investments preferably in groups, which will ultimately yield adequate income.
Afterward the Country Director visited some projects being executed by the beneficiaries such as fish farming, cow rearing, tube-wells that provide arsenic free pure drinking water and constructed considering the flood level and expressed his deepest satisfaction at the outcomes of the project and assured to continue World Bank's support to a larger extent in near future. He also commented that "It is wonderful to see tangible results of this excellent project based on self reliance and mutual support."